15 Sleep Solutions You Can Do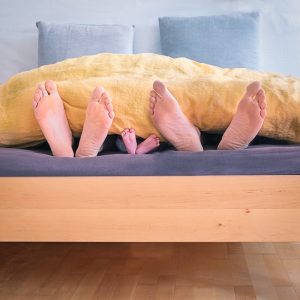 Sleep is a big deal  
Especially when two-thirds of adults don't get the minimum required to meet basic physiological requirements.  In fact, less than 7 hours per night can shorten lifespan significantly.  Inflammation increases when we miss a night of good sleep.  Other sleep research shows up to 29% lower sperm count in men who sleep poorly vs those who regularly get enough rest.  Athletes performance drops 10-30%.
Why Parents are Crazy
As a parent of a young child I can vouch for how difficult it can be to get enough sleep.  When your infant finally starts sleeping through the night your cortisol and melatonin production is so confused insomnia becomes a thing. Catching up is not actually possible especially as a single parent.  Through trial and error I've discovered the ridiculous reality of living in a state of constant sleep deprivation.  Caffeine stops working.  You think everyone hates you and life is out to get you.  This is the real reason parents are crazy a lot of the time!  Anyone doing shift work or work late at night can be included in those who suffer the most.
---
Adults really do require 7-9 hours of sleep
Newborns (0-3 months): 14-17 hrs
Infants (4-11 months): 12-15 hrs
Toddlers (1-2 years): 11-14 hr
Preschoolers (3-5): 10-13 hours
Elementary school age (6-13): 9-11 hrs
Teens (14-17): 8-10 hrs
Adults (18-64): 7-9 hrs
Older adults (65+): 7-8 hrs
Sleep Hygiene: Focus on What to Do
1. Be consistent with your sleep schedule 
Set a realistic bedtime.  Train your brain to develop a regular circadian rhythm by going to bed at the same time most of the time.  
2.  Establish a bedtime routine
This can include a warm but not hot bath or shower.  Journaling in a book, meditating, stretching gently or reading are all appropriate activities.  Dim your lights and listen to relaxing music to unwind from your day.  
3.  Your bedroom needs to be quiet, cool and comfortable
Sleep is better when your room is cool rather than warm. You can keep a door or window cracked for circulation and to avoid stuffiness. Keep all lights off, including night lights, and lights from electronic devices. Sleep on a comfortable mattress.  Turn off the extraneous noise. A white noise machine is fine. If your pets wake you up, keep them in another part of the house. 
4. Turn off electronic devices in the evening
This allows for more connection, better digestion and a general parasympathetic or relaxed environment where you can reconnect and let go of the day.  Electronic devices emit blue light which stimulates the brain.  Cortisol and melatonin get confused and these hormones play a huge role in insomnia.
5. Exercise during the day
Exercise promotes continuous sleep.  Its also great stress relief.  Avoid intense exercise in the evening as this can interfere with deep sleep.  Stress management is crucial to sleeping well.
6.  Eat enough during the day
Blood sugar dysregulation causes spikes in cortisol and makes it more difficult to rest later on.  In fact, having enough carbohydrates during your evening meal has been shown to support better sleep.  Choose root veggies and unprocessed, gluten free options.  Often times food reactions cause an internal stress response that we aren't aware of.
7. Use caffeine with caution
We know that 50% of people don't metabolize caffeine.  This means it stays in the body for much longer and therefore amount matters.  Cut down on caffeine and avoid it after noon entirely.  This includes chocolate. Uncooked cacoa is easier on you.  Matcha has a longer burn than coffee and many health benefits.  Find alternatives like peppermint or dandelion tea. Golden tea is a delicious alternative as well.  I know its not easy to change this habit especially when you are sleep deprived but it can be done.  It may be the most important change you can make.
8. Get out of bed if you aren't sleeping
Do a guided meditation or find another relaxing activity until you feel sleepy.  This is part of training your body that bed is for sleep.  Have a comfortable chair in your room and make a cup of sleepy tea.  Simple rituals like this work.
9. Avoid large meals later at night
A small protein rich snack before bed can help with night hunger but large meals late at night create a burden for the liver.  Finish meals a few hours before bedtime.  The liver kicks into gear at 11pm so being asleep by then is ideal.
10. Reduce fluids before bedtime
I'm training my son to drink more during the day so he won't need pull-ups at night.  Just pretend you are 5 years old!  My mom has sage advice for parents.  Ask yourself if getting your kid up to pee in the night is more of a priority than your sleep.
11.  Nap or no nap?
I teach meditation to my patients.  I find if someone calms their nervous system for 5-20min during the afternoon it can support a deeper sleep later.  People may or may not nap as part of the practice. I don't see any problem with this however long naps may inhibit sleep later on.
12. Avoid these because we know they interfere with sleep
Alcohol raises our body temperature and requires that the liver clear it.  Ever wake up between 1am and 3am after having a drink?  Cigarettes and some medications also make sleep more elusive.
13. Black out your room, hide the clock and wake naturally if possible
This is basic but an incredibly important game-changer.  Buy black-out curtains.  Don't use night-lights except in the bathroom.  Turn your digital clock away from your bed while you sleep.  Don't wake to an alarm as much as possible.
14. Creat an extended sleep schedule
For anyone who has suffered from sleep problems an extended sleep schedule can support getting more sleep.  Research shows that allowing a longer period of time in bed does increase the amount of sleep people get.
15. Only use your bedroom for sleep and sex
Train your body to expect only rest and pleasure in this space by creating this.  Bedrooms ought to be a place of sanctuary from the world.
---
An Important Ally: Your Morning Awakening Response
Its best to get up when you first wake up.  By exposing your eyes to bright full-spectrum light you are stimulating the cortisol awakening response (CAR).  This accounts for half or more of our daily cortisol secretion.  Remember the cortisol is anti-inflammatory and an important hormone that works synergistically with melatonin. Doing any kind of movement first thing supports morning cortisol.  This could be carrying a child, going upstairs, walking your dog or going for a run. Daylight stimulates cortisol release, and darkness stimulates melatonin.
Blue light boxes improve sleep and depression simply by stimulating this early morning response during the winter for those who have to get up before dawn or who can't go outside first thing in the morning.  Beginning to notice this response and working with it can help repair your sleep-wake cycle if its been disrupted.
HPA-D is not Adrenal Fatigue
I've written extensively on this topic and the reason I bring it up is because you'll see a bunch of recommended supplements for adrenal fatigue.  Insomnia is a symptom of a much more complex disorder called HPA-D.  (hypothalamus pituitary adrenal dysregulation).  By testing cortisol thoroughly we can see that pattern of dysfunction and supplement accordingly.  Giving adaptogens to everyone is not the answer.  Nervine herbs on the other hand are safe and interestingly ashwaghandha is both an adaptogen and a nervine.  Some of my other favourites include skullcap, passion flower and camomile.  Anything that makes you feel groggy upon awakening is inhibiting the cortisol awakening response so avoid this. Be careful using licorice as this potent herb increases cortisol.  L-theanine is an amino acid that is safe to use for anyone.
Certain patterns of HPA-D require increasing cortisol at certain times of day or decreasing it. Often there's an issue with hormone clearance pointing to excess inflammation, inhibited liver function or thyroid issues.  The testing I do looks at both free circulating cortisol and total metabolized cortisol.  These are not always the same.  In many cases only free cortisol is tested resulting in treatment that is not neccessarily exact.
CBD is both anti-inflammatory and promotes sleep.  This is why standardized extracts need to made available.  For those experiencing recalitrant pain CBD can bring down the pain where other pain medications won't.  A patient of mine with insomnia and endometreosis began using CBD.  Once her pain came down she was able to sleep and could start making decisions about her health.  She had been unable to work for many months.  I've seen this with backpain as well.
Thorough blood work including iron, blood sugar, thyroid and inflammatory markers is required to see a full picture and get a sense of what is going on.  A gut work-up is also important. Neurotransmitters play a role in HPA-D through the gut-brain axis.  Healing the gut so its producing neurotransmitters again and absorbing nutrients is the key in some patients. Supplementing with precursors like 5HTP are helpful in these patterns during treatment.  You may be noticing that it can take time to get to the root cause of insomnia.  Often we are also addressing trauma during treatment.  When we find out what works and are sleeping more, people report feeling that they got their life back.
Related Posts