Schedule a free consultation today. Feel heard.
Want to speak to someone?
Give me a call or click here! I'm happy to answer any questions.
The case review process is available in-person, by phone, or video conference depending on where you live. 
STEP ONE: Your Initial Consultation 
We'll look at the many of factors influencing your health.  The lab tests we order depend on your individual circumstances, and may include:
Bloodwork:  provides an overview & helps us narrow in on problem areas like blood sugar, thyroid, nutrient profile & gluten sensitivity. 
Advanced stool testing screens for parasites, fungal overgrowth, intestinal inflammation, dysbiosis, digestive function and deficiency of beneficial bacteria.
SIBO breath tests tests for small intestine bacterial overgrowth 
Organic acids tests check neurotransmitters, enzymes, and nutrients.  Screens for toxic exporsure, bacterial infection and fungal overgrowth.  Gives an overview of health and is especially good for cognitive and mental-emotional conditions like anxiety and depression.
Comprehensive hormone testing for HPA-axis/adrenal function and sex hormones including hormone metabolism. 
You will be provided with a health history questionnaires to complete. It can be an excellent overview for you and it makes our time together much more effective.  These may include: 
A detailed health and medical history questionnaire  

A survey of your chief complaints and health goals  

An assessment of your most troubling and frequently experienced symptoms  

A diet survey and questionnaire  

A survey of your current supplements and medications
STEP TWO: the Case Review
The Case Review Consultation is a 45 minute appointment.  Prior to the consultation, we review the results from your labs along with your Case Review questionnaires. We will then create a Report of Findings, which is broken into three parts:
A summary of the underlying patterns that are contributing to your symptoms.  

An outline of the suggested treatment plan, including dietary, supplement and lifestyle recommendations.  

Recommendations for further testing (this will typically be minimal because of the completeness of the Case Review process)
ONGOING TREATMENT Once the Case Review is complete we recommend booking appointments as needed while you are in treatment.  The frequency of your follow-ups will depend upon your condition & your response to the treatment.  Follow-up Appointments are $95 for 30 minutes.  
Case Review Fees
The Case Review is the fastest and most efficient way to determine the underlying causes of your health problems and design an effective treatment plan.  While a Case Review may cost more up front, it is designed to save you money and time over the long-term by performing the appropriate diagnostic testing and evaluation at the beginning.  Many patients spend a lot of time and money spinning their wheels but never solving their health issues.  Health problems can interfere with having a  fulfilling personal & work life.   Here is a breakdown of the costs involved in the Case Review:
Step 1 & 2: $595.  This includes your initial & case review consultation plus 2 appointments to address diet & lifestyle factors.  You determine the pace but usually it takes 3-4 months.  (For those who have diet & lifestyle support already there is another track.  Please inquire.)
Functional Lab Work : Functional labs for the case review are approximately $400–$1200. depending on the complexity of your case.
Blood Draws: May be an additional cost depending on which labs are needed.
Supplements:  Recommended as part of your treatment plan after the Case Review.  The cost is typically $200. per month.
Total of Case Review Fees: The total for the entire Case Review process with is approximately $1500. – $2,000.
A Functional Medicine approach is:
Investigative:  Addresses the underlying or root cause of your health problems which leads to optimal healing and long lasting results.
Holistic: Understands the systems of the body are interconnected along with our environment.   Sees the importance of theses connections.
Safe:  Treatments have mild or no side effects, and other "untreated" complaints often improve.
Patient-centered:  Treats the patient, not the disease.  Treatments are highly individualized based on the patient's needs.  
Participatory:  Patients are educated, empowered, and encouraged to take an active role in their healing process.
Integrative:  Multiple treatment approaches are applied.  Diet and lifestyle are emphasized.
Restorative:  Designed to zero in on underlying causes, optimize function.  Prevent and reverse disease.  Improve the quality of your life.
Preventative:  Treatments always entail that you engage in lifestyle and dietary changes that will help prevent chronic illness.
Evidence-based:  Based on the latest research from peer-reviewed medical journals, and uncorrupted by corporate and political interests.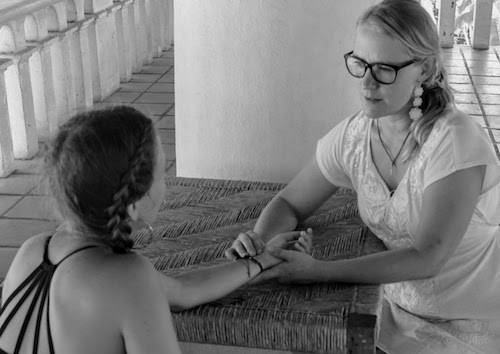 I know Amber to be a very caring practitioner. She takes the time to really listen, to get the facts and to dive below the surface. She puts the puzzle pieces together to discover root issues, sometimes with targeted testing to further refine the protocols she suggests. Her approach is of long term correction of imbalances rather than just symptom management. With her gentle yet direct manner, she makes clients feel comfortable in sharing their personal and often challenging health concerns. Amber is always approachable and open as questions arise along the healing journey.
Glennis Taylor, Natural Health Consultant
Insomnia is often caused by blood sugar dysregulation.
I am truly grateful to have Amber as my Functional Medicine practitioner – she is passionate about her work and deeply committed to my healing journey. It can be incredibly overwhelming to navigate the different things happening in my body, particularly when allopathic medicine simply wants to give me pharmaceuticals. Amber has helped me look at the many facets of what I am dealing with, and has helped me to understand the connections between them in a way that is accessible, and gives me hope that my body will heal.
Anastasia Hangmanole, Educator
85% of thyroid issues are caused by autoimmunity.  This is often overlooked. 
The Functional Medicine that Amber Wood guided me through has had a profoundly beneficial effect on both my physical and emotional well-being. When I first started working with Amber I was experiencing challenging life transitions resulting in my adrenals and digestion in a state of trauma. These things combined left me exhausted, anxious, and uncomfortable to say the least. We worked closely over the past few years to treat, heal and resolve these issues. Through Amber's knowledge of Functional Medicine we eliminated what ended up being a bacterial infection of the gut lining called H.pylori. Her guidance on all aspects of this process has completely changed my life. I consider her to be a gifted clinician. I am eternally grateful to her.
Artist and Mother